on-line lesson
on-line lesson
Non-face-to-face ikebana lessons using Zoom
ABOUT ONLINE LESSON
In line with the current corona disaster and the world where IT has advanced
As a new initiative, we will start "Non-face-to-face ikebana lessons using Zoom".
We are challenging lessons that do not make you feel the distance even if you are far away.
The content will be lesson according to the Sogetsu style textbook as well as face-to-face.
We have prepared a starter kit for the tools, so if you do not have the tools, please purchase them first.
It may not be possible to take the subjects in order due to the season, lack of flower materials, etc., but I would like to do it flexibly.
First, make sure you can use Zoom on your mobile phone or computer.
We will confirm in advance whether we can communicate with each other the day before.
In the case of Zoom lessons, it will be decided after the schedule is set, so please refrain from making payment until then. (* Lessons cannot be confirmed without payment.)
Cancellations and refunds are basically not possible, so please consider the schedule carefully before applying.
If you have some inquiry, feel free, please let me know in English or French.
n'hésitez pas à me contacter si vous avez des questions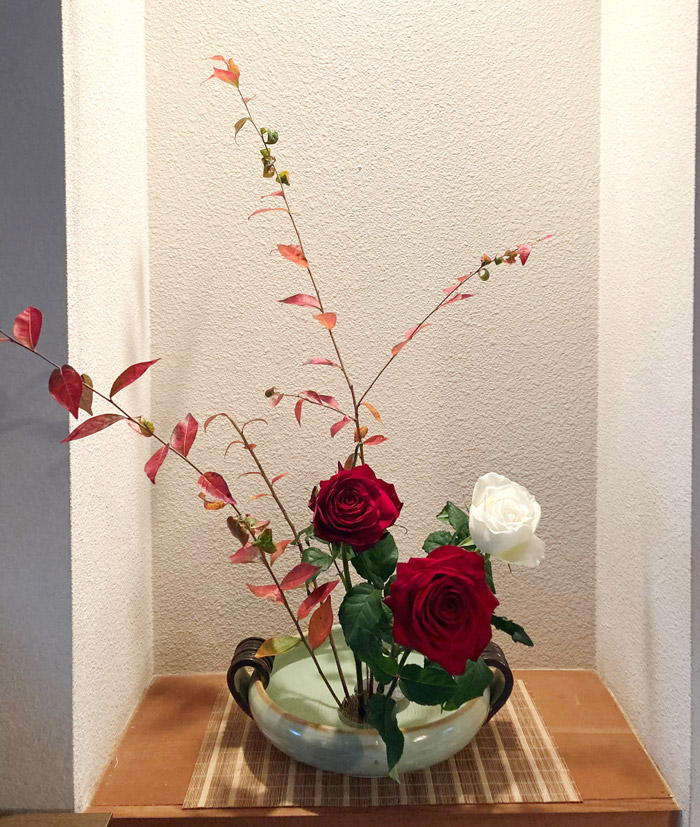 Before starting an online lesson
Ikebana online lesson
We will discuss online lessons in advance.Please contact us fromthe inquiry form.We will get back to you shortly.
Payment method
Please make a reservation from the application button.
Besides that, we also have Base, Revolut, Paypal bank transfer.Please contact us for details.
(For textbooks, consult us if you are overseas)
Please bring your own flowers.
Flowers to prepare
[In the case of Moribana]
One branch each that is 80, 60, 40 cm in the cut state, 3 in total, 5-7 mm thick
The cut state is 3 to 5 flowers of 35 cm-40 cm (depending on the size of the flower)
[In case of throwing]
Prepare 20 cm longer than the length of the moribana. The thickness of the branches is about 1cm-1.5cm.
It is desirable that the cut section is not hollow.
You need something like a draining ball to prepare. (Because it can be in the water when cutting branches and stems)
Lesson fee does not include tax.
In case of cancellation, please contact us at least 3 days in advance.
About the Sogetsu style textbook
1. Ikebana of Sogetsu 1 and 2
Learn flower patterns. A4 size 127 pages
2. Ikebana of Sogetsu 3.4
A4 size 119 pages
There are 20 credits for each of 1, 2, 3 and 4. (80 lessons)
3. Ikebana of Sogetsu 5
A4 size 127 pages 30 credits (30 lessons)
After completing the three textbooks, you will receive the first teacher's diploma.
There is an additional charge for obtaining a certificate or diploma.
The textbook is written in English and Japanese so that even those who have no experience can understand it.
Information on starter kit
Ikebana Starter Kit
For those who need it, there is also a first starter kit. (About 20,000 yen)
Recommended for those who attend the flower arrangement class for the first time.
(set content)
Scissors, basin, swordsman, throwing vessel